MARSAI MARTIN TALKS GROWING UP IN THE SPOTLIGHT AND FINDING HER VOICE ON ET DIGITAL'S 'UNFILTERED' SERIES


MARSAI MARTIN TALKS GROWING UP IN THE SPOTLIGHT AND FINDING HER VOICE ON ET DIGITAL'S 'UNFILTERED' SERIES
FULL EPISODE AVAILABLE NOW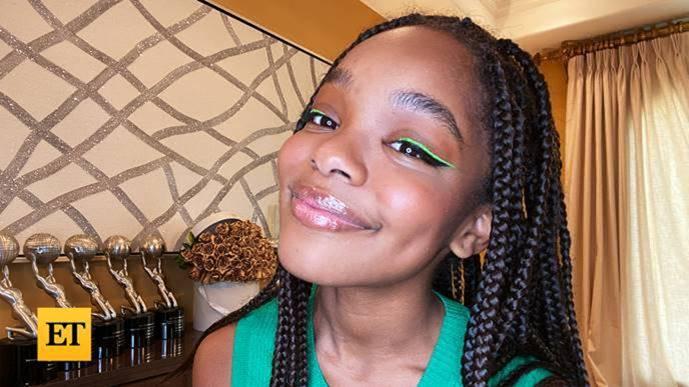 FULL EPISODE: https://www.youtube.com/watch?v=MlhCTCOYsBc&ab_channel=EntertainmentTonight
October 14, 2020 (Los Angeles, CA) – On the season three finale of ET Digital's Unfiltered, Hollywood's youngest executive producer and Blackish star, Marsai Martin, opens up about growing up in the spotlight and finding her voice.
"I'm blessed to actually have the platform that I have," Martin said. "Being a Black girl, even in [a] white, male-dominated industry, you have to use your voice. You have to speak your mind for your audience…Back when I was in Texas, I didn't see young Black girls who looked like me. I just thought they weren't allowed to be on screen, and I don't want anyone to feel that way…"
Martin moved from Texas to Los Angeles in 2013, but she hasn't been blinded by the bright lights of Hollywood.
"I feel like I'm still the same me and that's what I love about myself," she said. "Going into Black-ish and national commercials, and even pitching Little at a young age, I was, like, nine or 10, and honestly I feel like at that age, I just didn't care about how people would look at me…I just saw it as a fun game. Even pitching Little, I was like, 'I'm just talking to my homies…the heads of Universal."
Martin also shared her hopes of building an iconic career.
"I do feel like I'm on my way to being a legend," she said. "A legend means leaving a mark on the world and people not necessarily, like, knowing your name but your impact has changed their everyday life."
Visit ET's YouTube channel or http://www.etonline.com/ for the full episode of ET Digital's Unfiltered with Marsai Martin.
EMBED CODE: <iframe width="560" height="315" src="https://www.youtube.com/embed/MlhCTCOYsBc" frameborder="0" allow="accelerometer; autoplay; clipboard-write; encrypted-media; gyroscope; picture-in-picture" allowfullscreen></iframe>
For more information on "ENTERTAINMENT TONIGHT," please visit:
ETonline: http://www.etonline.com/
YouTube: https://www.youtube.com/channel/UCdtXPiqI2cLorKaPrfpKc4g
Facebook: https://www.facebook.com/EntertainmentTonight
Instagram: @entertainmenttonight
Twitter: @etnow
TikTok: @entertainmenttonight
ET Live: http://www.etlive.com/ or "ET Live" via App Store & Google Play